TOURISM
Jackson County Floridan
By Deborah Buckhalter – April 14, 2018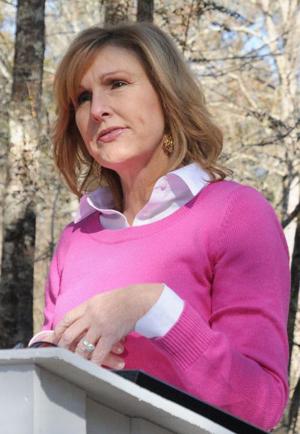 Pam Fuqua
KRISTIE CLOUD/FLORIDAN FILE
 Marianna resident Pam Fuqua has taken over as president of RiverWay South at a time when the organization has embarked on a "rebranding" mission. It's keeping its name but also will be more publicly doing business as Explore Northwest Florida.
Fuqua said members of the organization, formed in 2010, realized the need for a more area- and purpose-specific name as its representatives attend trade shows and make other efforts to promote its participating northwest Florida counties, which include Jackson and nine others.
RiverWay South is a bit too vague a moniker in places like Canada, Germany, and even in far-flung U.S. states like New York, Illinois, Wisconsin, Pennsylvania and Texas — all places the team has visited in an effort to market the local region to potential tourists. The people RiverWay is trying to target don't always immediately realize that it's a Florida-focused booth the team is manning as they approach at trade shows, Fuqua said.
The communities that support and benefit from the organization as of now include Jackson, Gadsden, Gulf, Franklin, Washington, Holmes, Liberty, Holmes, Walton and, most recently joining, Bay County.
It operates on contributions from governmental bodies in those jurisdictions, as well as on grants and such.
The Florida Department of Economic Opportunity, for instance, has provided a $136,000 grant for various uses, including promotional materials and travel expenses associated with two trade shows, the Philadelphia Outdoor Adventure Show and the Dallas Outdoor Adventure Show. The DEO money is combined with matching contributions from the participating counties to form a $272,000 fund.
RiverWay/Explore Northwest Florida also was awarded $43,678 by the state's Visit Florida, money that was used to fund six trade shows: The Atlanta RV and Camping Show, the New York Times Travel Show, the Chicago RV and Camping Show, Canoeopia in Madison, Wisconsin, the Toronto Outdoor Adventure Show and the Berlin International Trade Show.
There's a trade show coming up in Houston, Texas this June, as well.
The counties making up RiverWay/Explore Northwest Florida border the Apalachicola or Choctawhatchee rivers and share the common goal of creating and sustaining a significant presence as a regional tourism destination. Working together through the organization, Fuqua explained, they can put together opportunities to get visitors into as many of them as possible to explore their unique offerings and soak up the regional color.
Local contributions, grants and in-kind services have brought more than $450,000 to the table to help realize those shared goals. Using various funding sources to leverage more dollars, the team realized six dollars more for every local dollar dedicated to the cause. Those funds help create a comprehensive package of marketing and educational materials that further it at trade shows and in other opportunities.
Fuqua served two years as vice chair under the leadership of Immediate Past President Heather Lopez, of the Washington County Tourist Development Council. The board of directors also includes new Vice President Kristy Terry of the Calhoun County Chamber of Commerce, and Secretary/Treasurer Ashley Pettis of the Holmes County Development Commission.
Others making up the board include: John Alter, Northwest Florida Water Management District; Christine Andreasen, Jackson County Tourist Development Council; Bruce Ballister, Apalachee Regional Planning Council; Curt Blair, Franklin County Tourist Development Council; Benjamin Chandler, Gadsden County, Chattahoochee Main Street; Jason Cutshaw, Walton Visitors Center Tourist Development Council; Susan Estes, Opportunity Florida; Lee Garner, Gadsden County Tourist Development Council, City of Chattahoochee; Melinda Gates, Walton County; Allara Gutcher, Regional Representative, The Planning Collaborative; Homer Hirt, Jackson County; Jerrie Lindsey, Florida Fish and Wildlife Conservation Commission; Rebecca Prince, Holmes County Chamber of Commerce and TDC; John Solomon, Franklin County, Apalachicola Bay Chamber of Commerce; and Apalachicola's Betty Webb, Project Manager.
Webb can be reached at 850-323-0567. The organization's email address is:
[email protected]
.