Trails Can Lead You Down a New Path
Enjoy a tranquil trek along a sunny beach, in secluded forests, under a live oak tree canopy, or choose a day hike in a state park. Northwest Florida's hiking trails are plentiful, from steep cliffs to sandy shores, hikers can take a leisurely afternoon stroll or pack an extra water bottle for a serious excursion along a challenging course… be ready for a peek at the wildlife along the way. Flat terrain is the norm for most trails in the region with exception of the Apalachicola River where experienced technical trail seekers can tackle the more difficult hilly trails of Lake Talquin, Torreya State Park and Garden of Eden Trail.
You'll want to check out our featured trails and the complete list of regional hiking trails, click on the trail of your choice for more info to enjoy an epic outdoor adventure.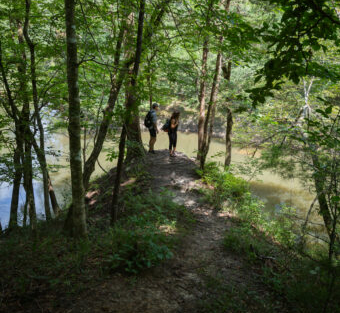 featured trail:
Chipola River Greenway
The entrance to the HCRA and Hinson Trail is located one mile south of the town off SR 73, via Gator Hole Lane. The trailhead is at the eastern end of Gator Hole Lane and features picnic tables, portable toilets, and a small boat launch ramp. The new Hinson Trail is a beautiful 4.6-mile system of loop trails along the Chipola River and is part of the Chipola River Greenway, which is a National Recreation Trail. The trails offer a broad range of walking experiences, featuring high bluffs overlooking the Chipola River, several large and many small sinkholes, two walk-in caves, a stretch of trail that follows the still-remaining steel rails of the old Marianna and Blountstown (M&B) Railroad, beautiful native plants and animals, rare and protected species including a Gopher Tortoise preserve, and meadows of vintage pecan orchards.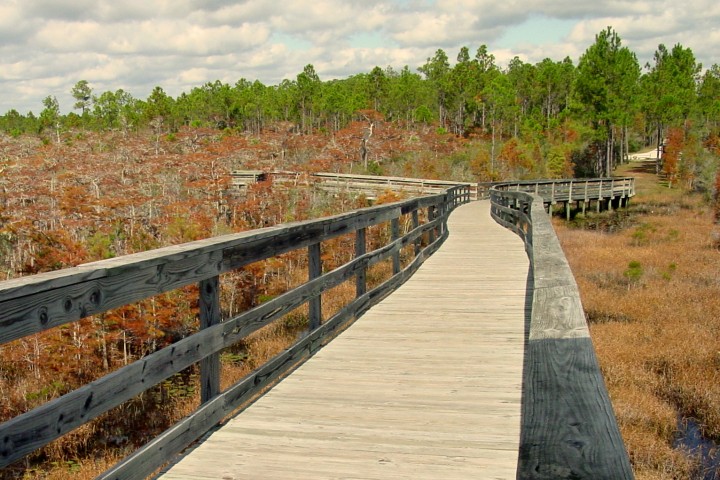 featured trail:
Dwarf Cypress Boardwalk
One of the most unique features of this area, the Dwarf Cypress—also known as Bonsai or Hat-Rack Cypress—are found throughout Tate's Hell, but nowhere more pronounced than in the area of this boardwalk. Many of the trees are more than 300 years old, but they grow to a height of only 6-15 feet. No one is exactly sure what causes the cypress in this area to be dwarfed. The trees are not genetically different from other pond-cypress trees in the area, and seeds from these trees will grow to normal heights when planted on other sites. The soil in this area is very deep before hitting bedrock, but there is a layer of hard clay that may prevent the cypress roots from growing deeper. The soil here is also very low in nutrients, as evidenced by the many carnivorous plants in the area.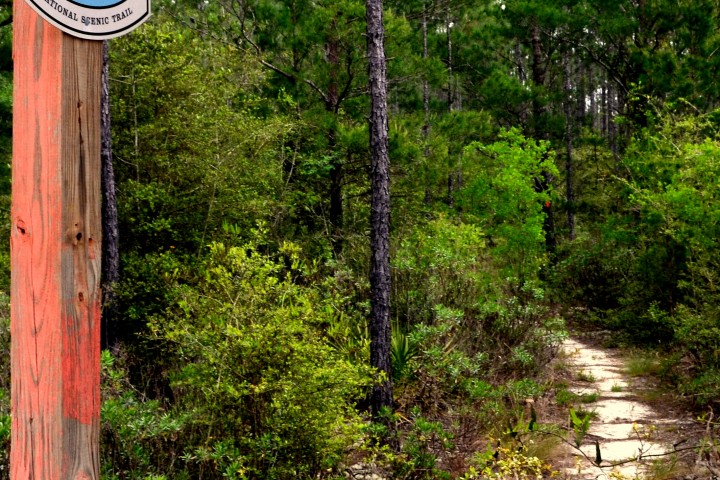 featured trail:
Florida National Scenic Trail at Nokuse Plantation
The Nokuse Plantation portion of the Florida Trail offers upland, wetland, and freshwater natural habitats along Lafayette Creek and Big Head Branch Creek in Walton County. The trailhead near Seven Runs Creek offers a short, 2-3 hour, shady, moderate hike along Big Head Branch creek. Nokuse Plantation is a privately owned preservation and restoration area connecting conservation lands of Eglin Reservation, Lafayette Wildlife Management Area, and the Choctawhatchee Wildlife Management Area.
Here is a list of more popular hiking destinations: